Elite Cracklaw Spearman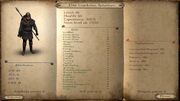 Elite Crackclaw Spearman can be upgraded from Veteran Crackclaw Spearman for 180 denars.
Their wage is 27 denars.

Armor Stats:
Head Armor: +33
Body Armor: +62
Leg Armor: +32

Equipment:
Heavy Spear (Polearm), Weight: 4.0, Swing: 25c, Thrust: 33p, Speed rating: 120, Weapon reach: 125, Requires strenght: 12, Bonus against shields, Can crush through blocks
Heraldic Ashwood Kite Shield (300/300), Weight: 5.0, Resistance: 10, Size: 72x105, Speed rating: 85
Nasal Helmet, Weight: 10.0, +33 to head armor, Requires strenght: 14
Chain Mail Hauberk, Weight: 20.0, +54 to body armor, +27 to leg armor, Requires strenght: 16
Mail Gauntlets, Weight: 2.0, +8 to body armor, Requires strenght: 14, Penalty: Power Draw and Throw: -3
Leather Boots, Weight 2.0, +5 to leg armor
Community content is available under
CC-BY-SA
unless otherwise noted.