The faction, Lys, is ruled by Prince Melenai Saskos .
It's vassals are Broza Pasnak, Qogrondro Pasnak, Taddeo Pasnak, Daor Isalios, Zyhon Heokenemsos, Galamanchos Heokenemsos, and Tychonemos Isalios.
The town of Lys is owned by Prince Melenai Saskos and it's villages are Memebatas, Ji Qlony, and Azantyr.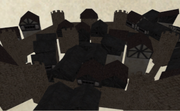 Community content is available under
CC-BY-SA
unless otherwise noted.